DIRECTORS' REPORT - 2021 ANNUAL GENERAL MEETING
Actions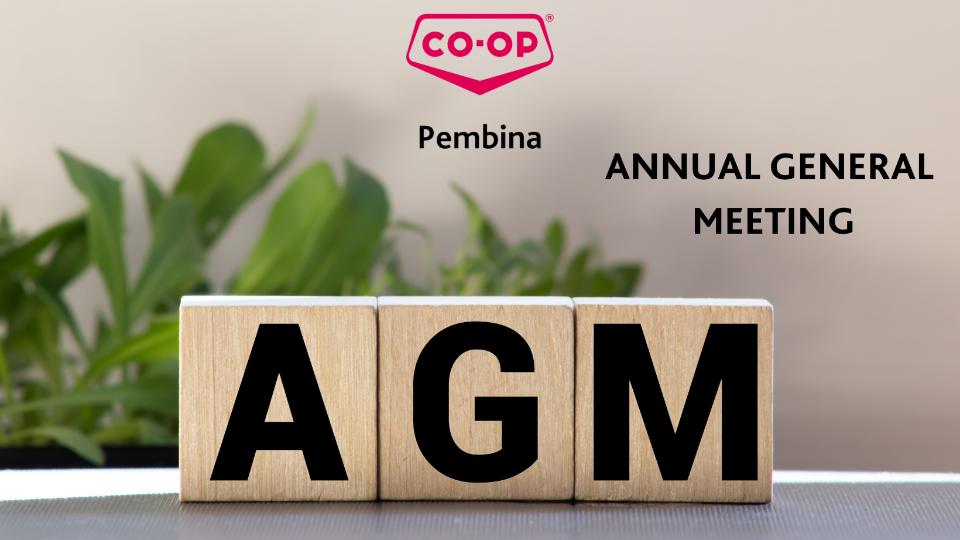 DIRECTORS' REPORT - 2021 ANNUAL GENERAL MEETING
June 20, 2022
Your Board of Directors is pleased to report on the operations for Pembina Co-op. This year our AGM was held at St. Leon Community Hall on June 16, 2022 at 7:30pm!
---
Board President, Mr. Marc Grenier called the meeting to order and Director Ernest Fraser was pleased to provide the Invocation. Following some opening remarks and the reading of the minutes from our virtual 2020 Annual General Meeting, Marc Grenier provided the BOARD OF DIRECTOR's report.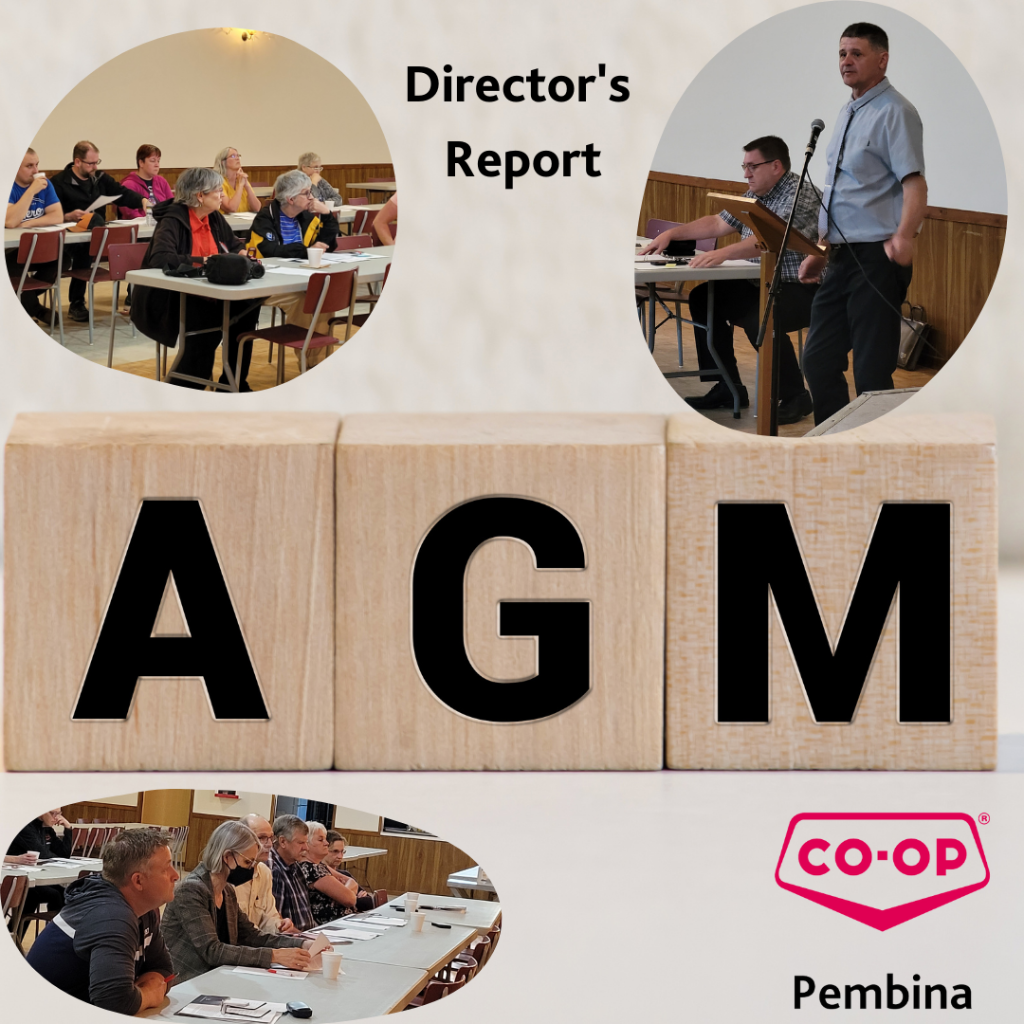 Board of Directors Report

President Marc Grenier spoke to the members in attendance about the financial results of the previous year and the impact of the challenges faces such as supply issues, logistics problems, staffing shortages and significant inflation. He indicated that despite all of the challenges, Pembina Co-op still had a record year in sales and earnings.
President Grenier stated that a large part of the success of our Co-op depends on the competence, enthusiasm and dedication of our employees. He applauded the great group of Pembina Co-op team members and acknowledges that the year 2021 came with it much hard work and the efforts of everyone working together. This camaraderie enables Pembina Co-op to continue with the delivery of essential goods and services that all of our members need to keep our households and businesses operational.
President Grenier also gave thanks to our members, for their continued support. Through that support, our members are growing a business in which they own, benefiting by the profits of our Co-op and positively impacting our communities in which we live, work and play.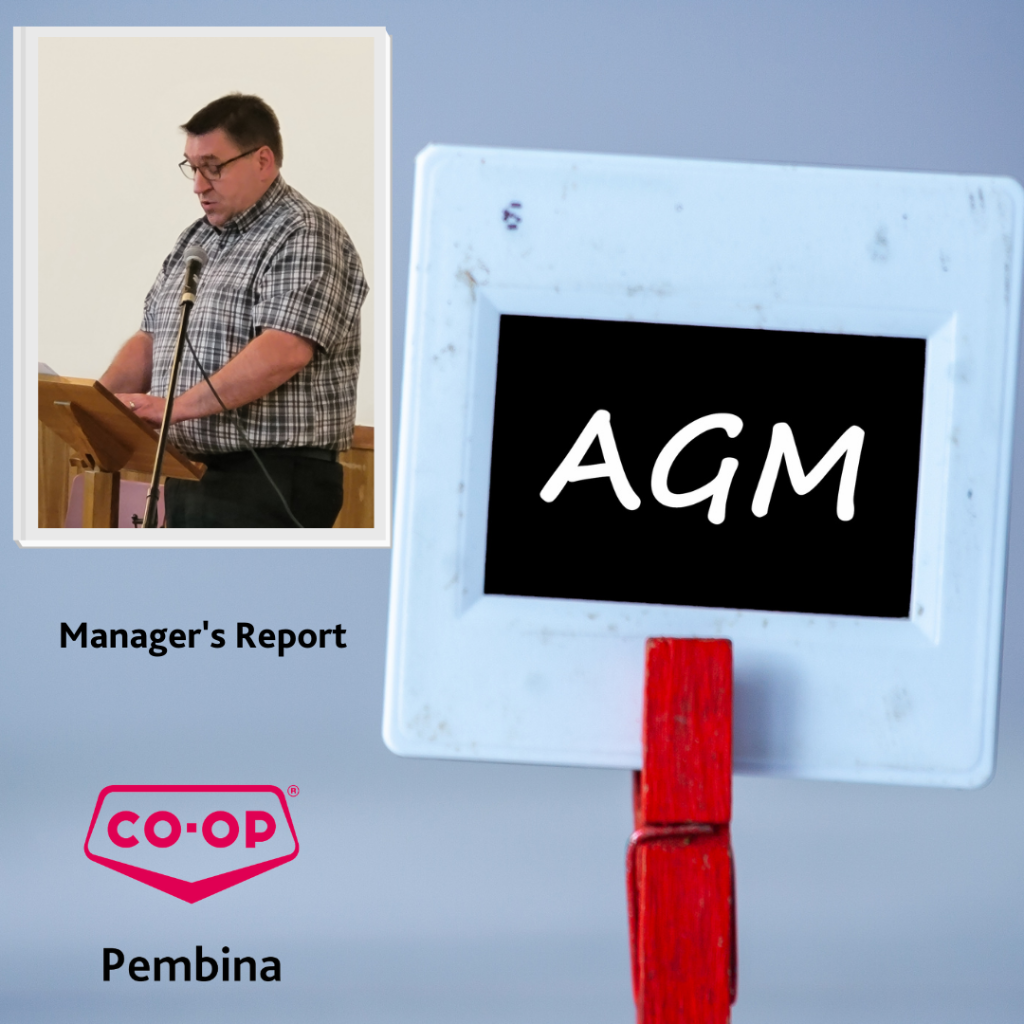 Manager's Report
General Manager Mr. Curtis Lehouillier presented the Manager's report by briefly reviewing the Vision, Mission and Values of Pembina Co-op, as well as the guiding statements that drive the five (5) pillars of Pembina's corporate performance management.
Market Pillar — pertains to the Co-op members and includes areas such as sales, product offerings and services provided. For the 2021 year, two (2) primary goals were targeted and Mr. Lehouillier was pleased to report that success was achieved in both goals.
Operations Pillar — focuses on the Co-op's income statement and pertains to efficiencies in expense control, utilization of technology, health & safety, regulatory compliance and day-to-day operational activities. There were two (2) primary goals set for 2021, one of which was to achieve a local earning of 2% of sales, and in 2021, the local earnings hit 5% of sales. The second goal, as described by Mr. Lehouillier pertains to expense control, or return on investment in inventory. The goal was to achieve 3.8 in inventory turns for all commodities, and we were slightly below our target, achieving only 3.5, which was influenced by a number of factors outside of our control.
Financial Pillar — focuses on the strength of the Co-op's balance sheet and pertains to its ability to meet its future financial commitments. Pembina Co-op continues to invest in your business and in our communities, with prudent investments maintaining the long-term financial planning that continues to strengthen the balance sheet.
Sustainability Pillar — focuses on sustaining community and our environment, being a good corporate citizen. Ensuring environmental and workplace safety practices are in place and followed as well supporting our community's sustainability through financial support for infrastructure and groups. In 2021, Pembina Co-op donated $106,000 towards community events and projects.
People Pillar — focuses on our team members and their employee experience. Areas such as culture, engagement, recruitment, retention, learning, development, diversity, inclusion and succession planning all have an impact on the success of our Co-op. Mr. Lehouillier highlighted "One of the major strengths under this pillar is the commitment that our team members have to Pembina Co-op."
Mr. Lehouillier concluded his report with personally giving thanks to team members who have or are reaching major milestones within the Co-operative Retailing System in 2022.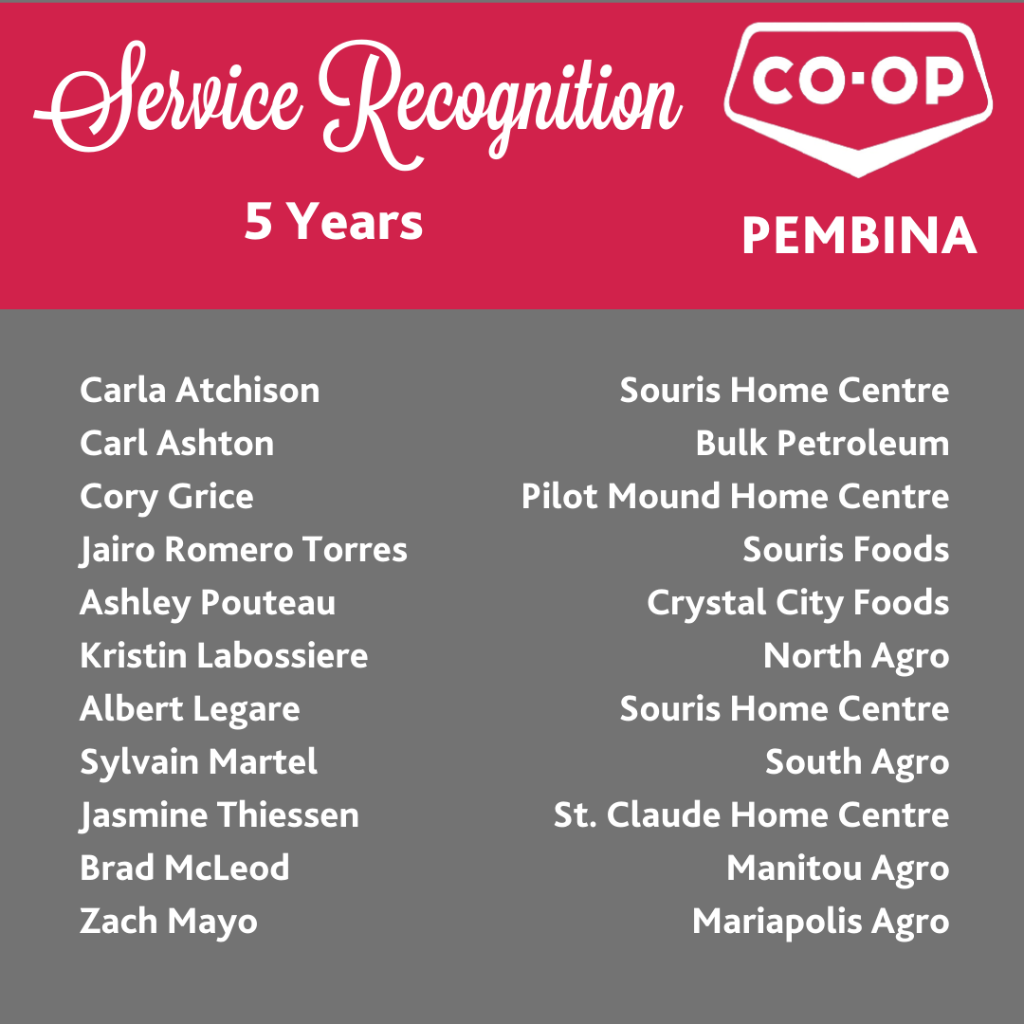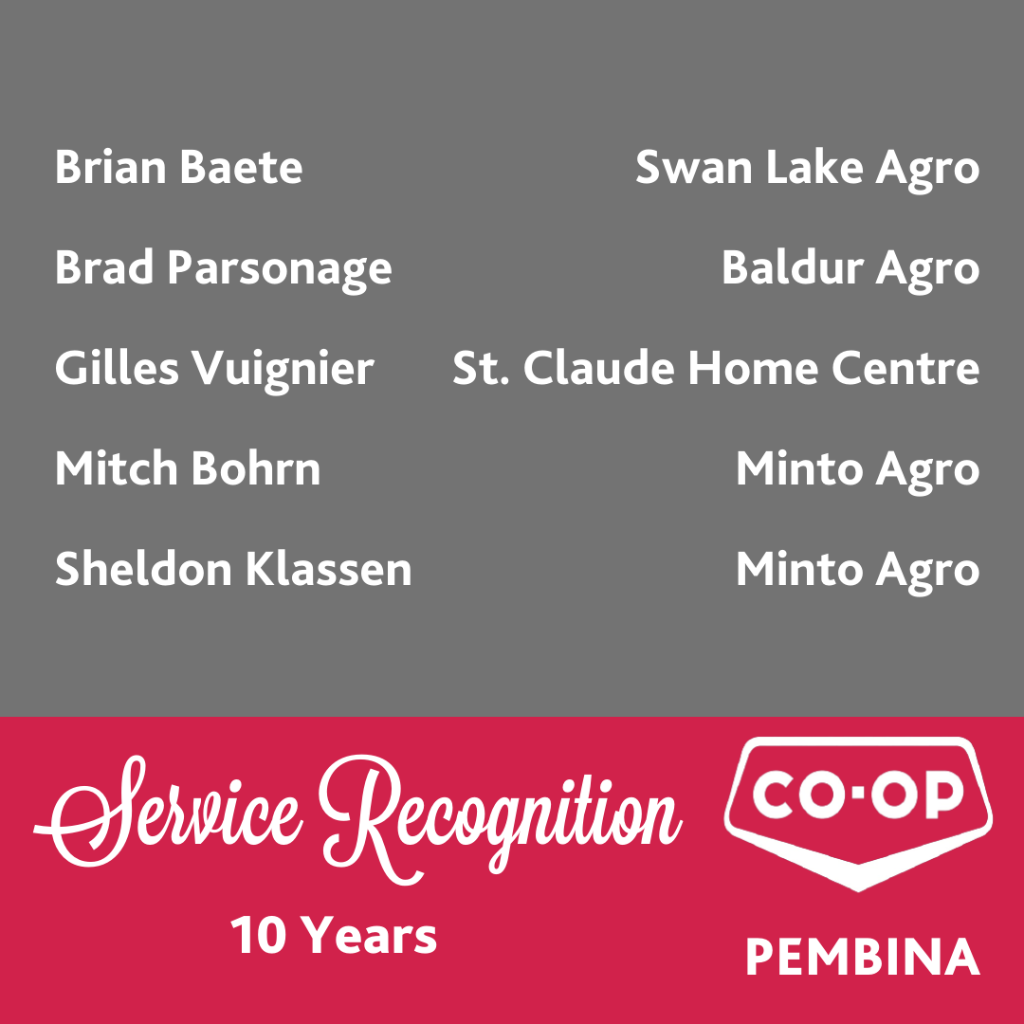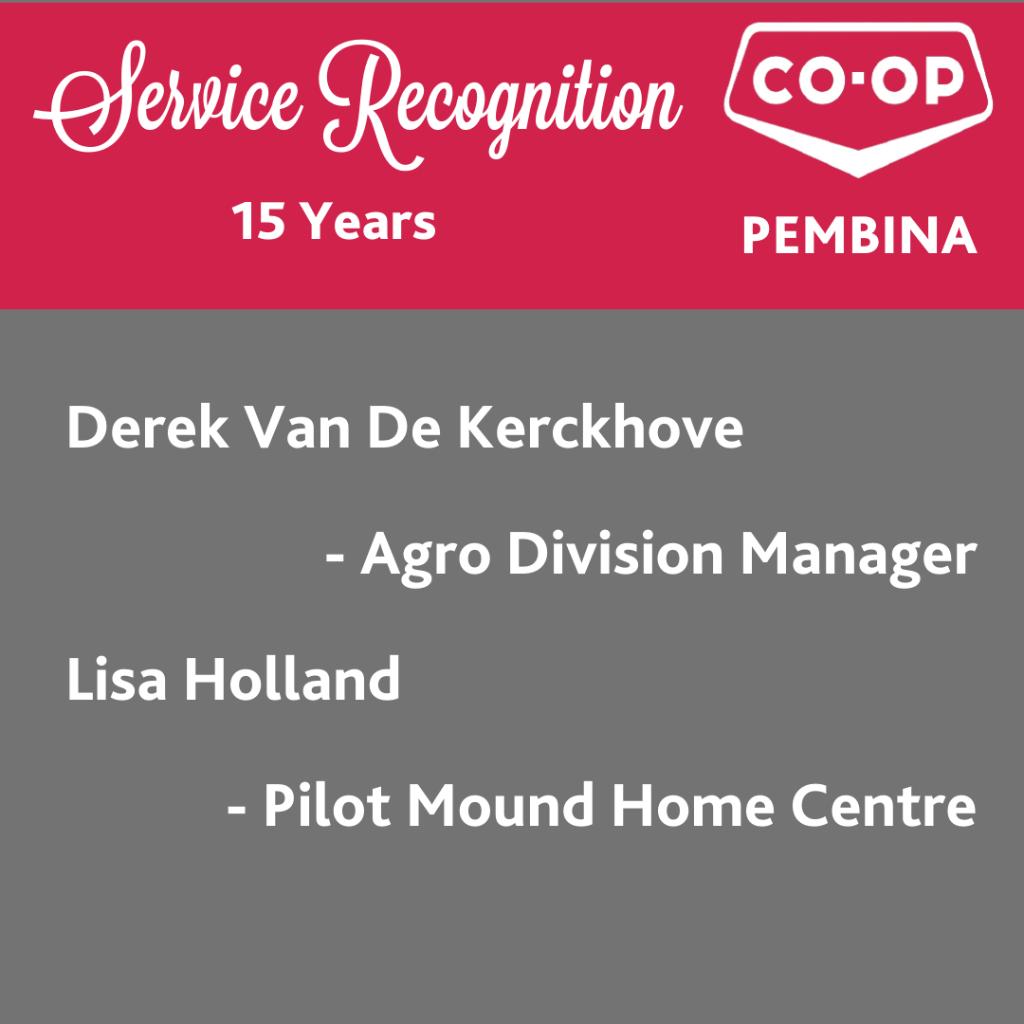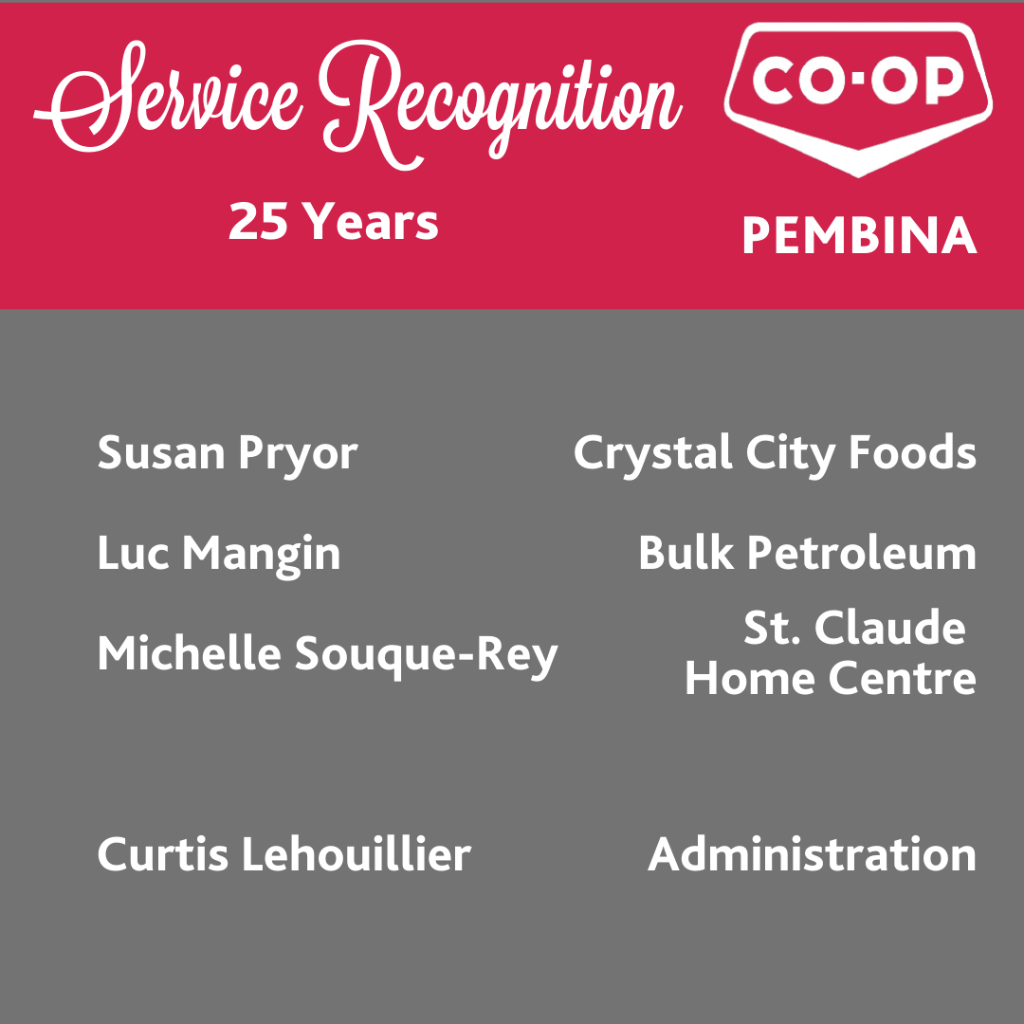 President Grenier took this as an opportunity to also give recognition and thanks to the General Manager, Mr. Curtis Lehouillier as well as some of Pembina Co-op's Directors!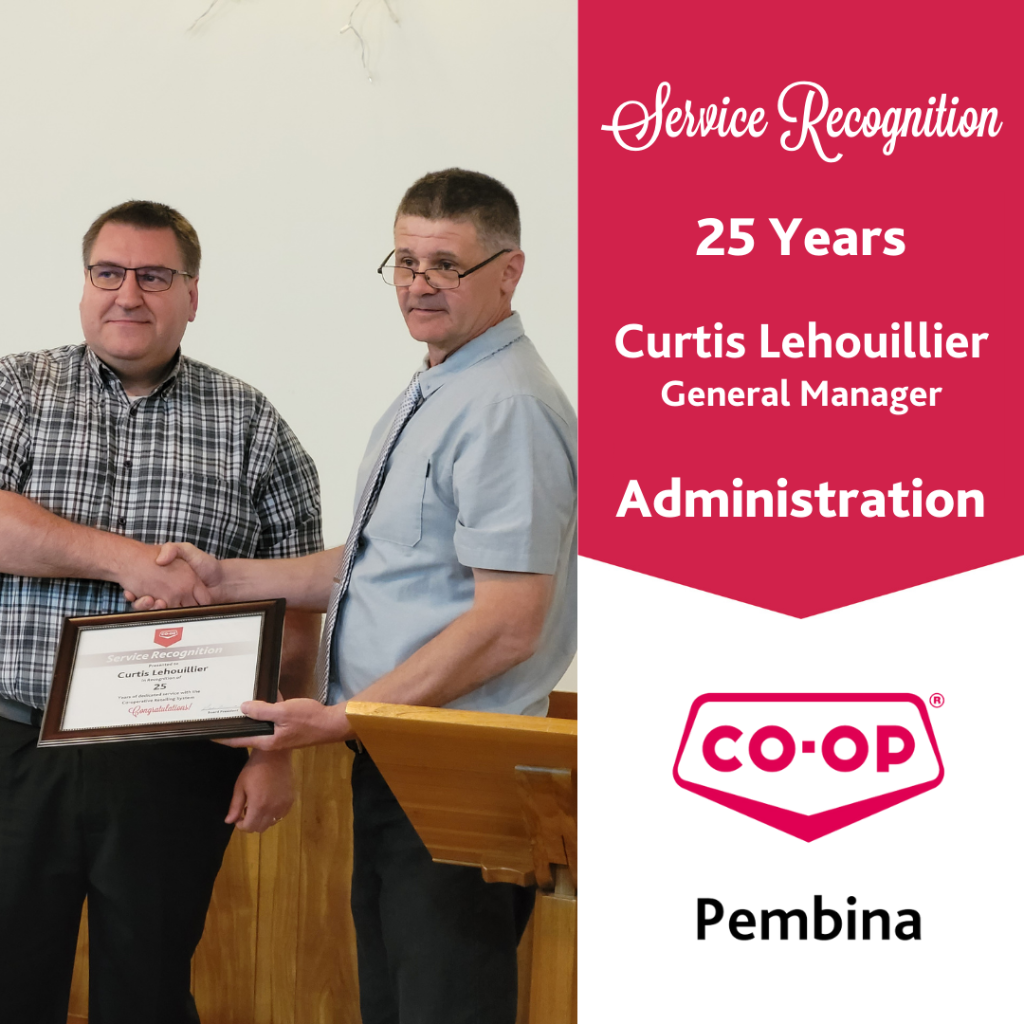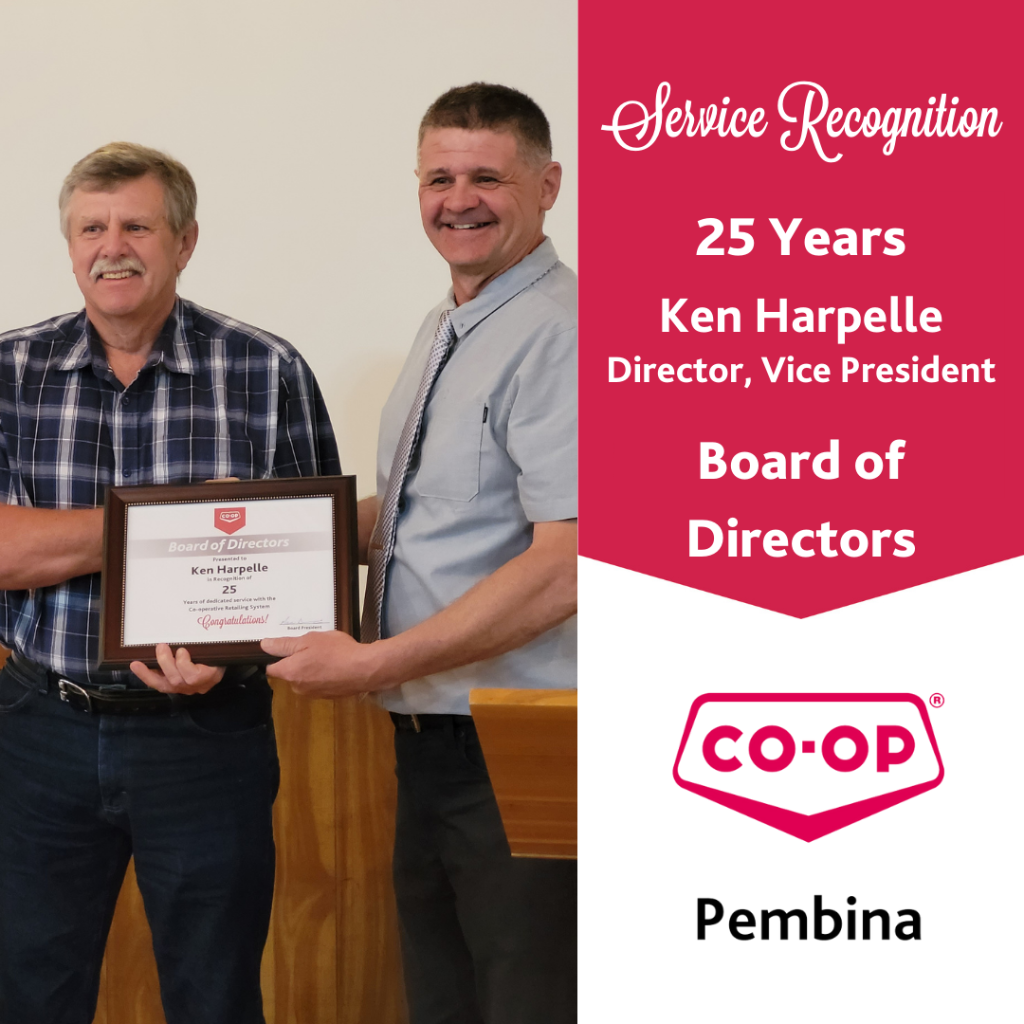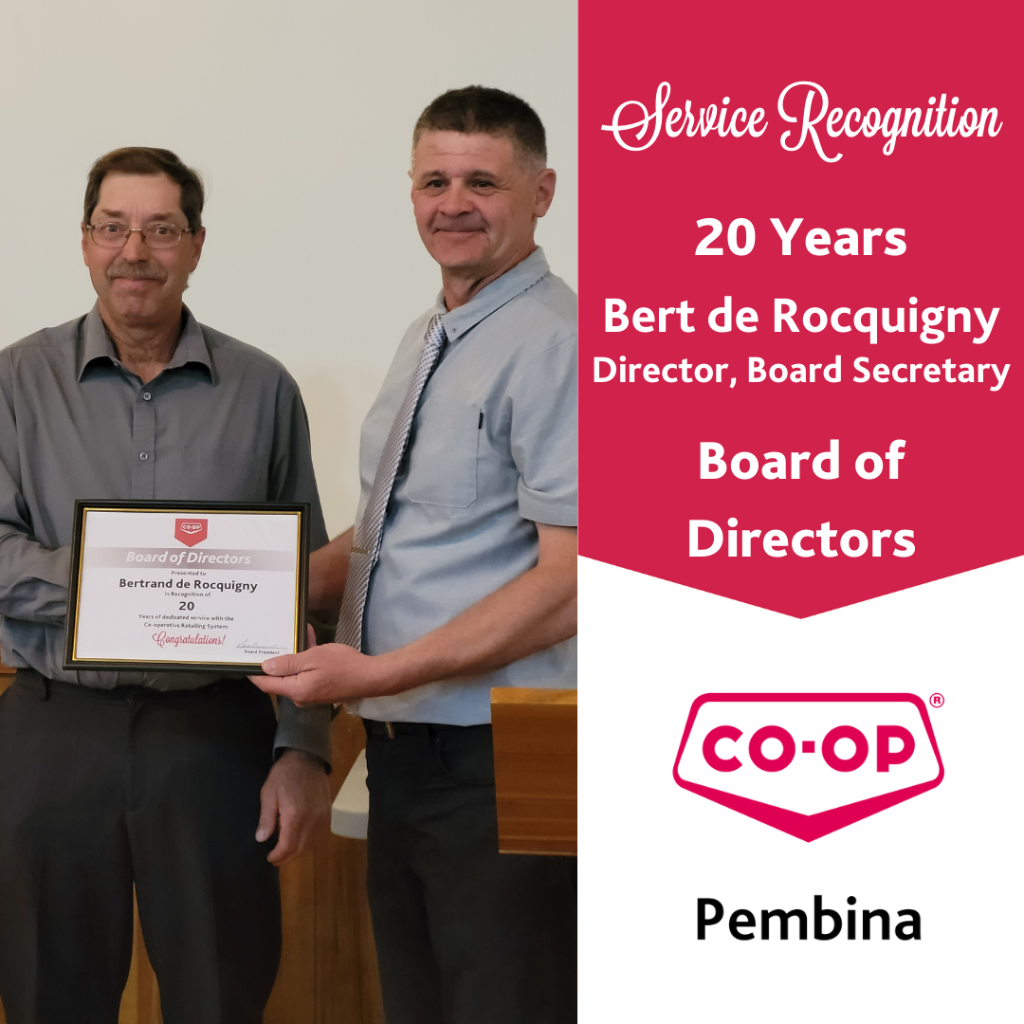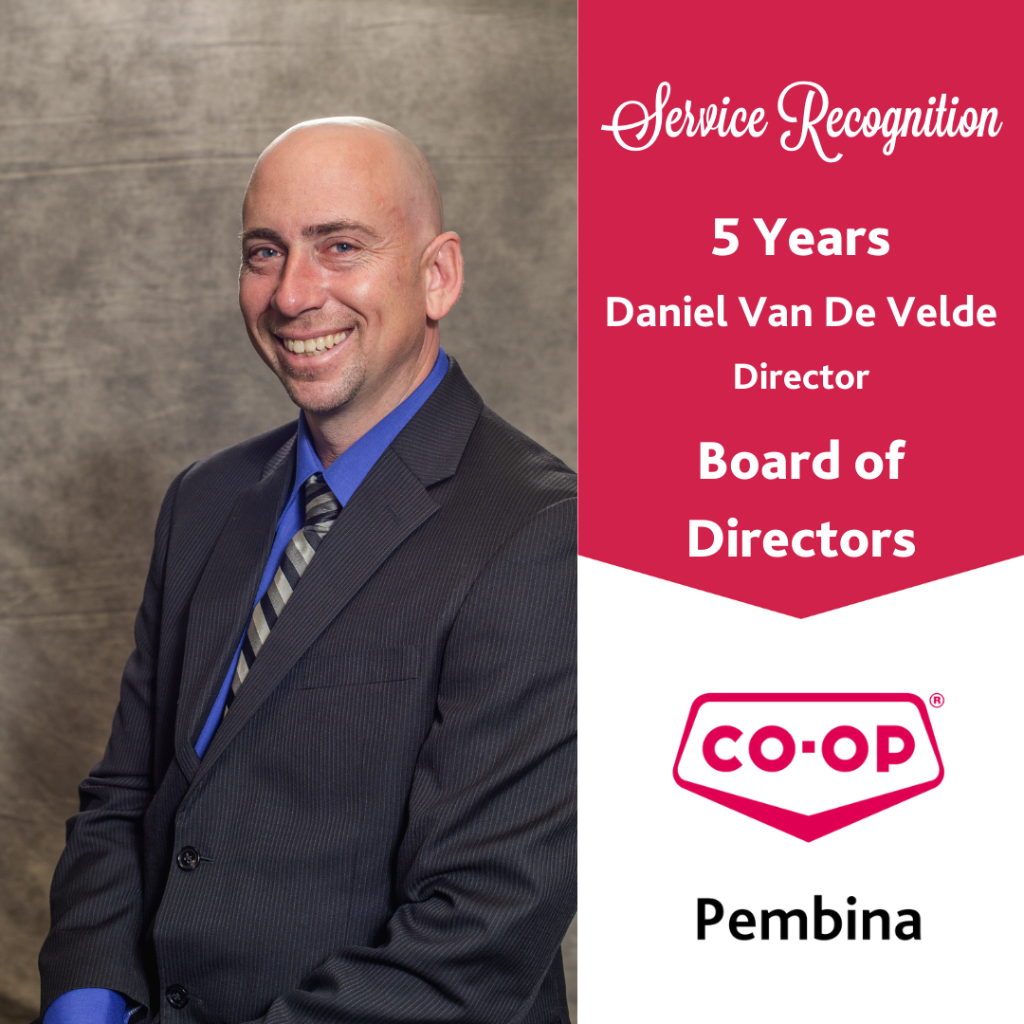 Auditor's Report & Financial Statement
Finance & Risk Manager Ms. Delia Jackson presented to the members in attendance an overview of the Auditor's Report and Financial Statement for the fiscal year ending January 31, 2022. The Auditor's Report details what was audited and provides an opinion on the financial statements of Pembina Co-op, through MNP, LLP, Chartered Professional Accountants.
FOR THE FULL AUDITOR's REPORT, please see the attached below.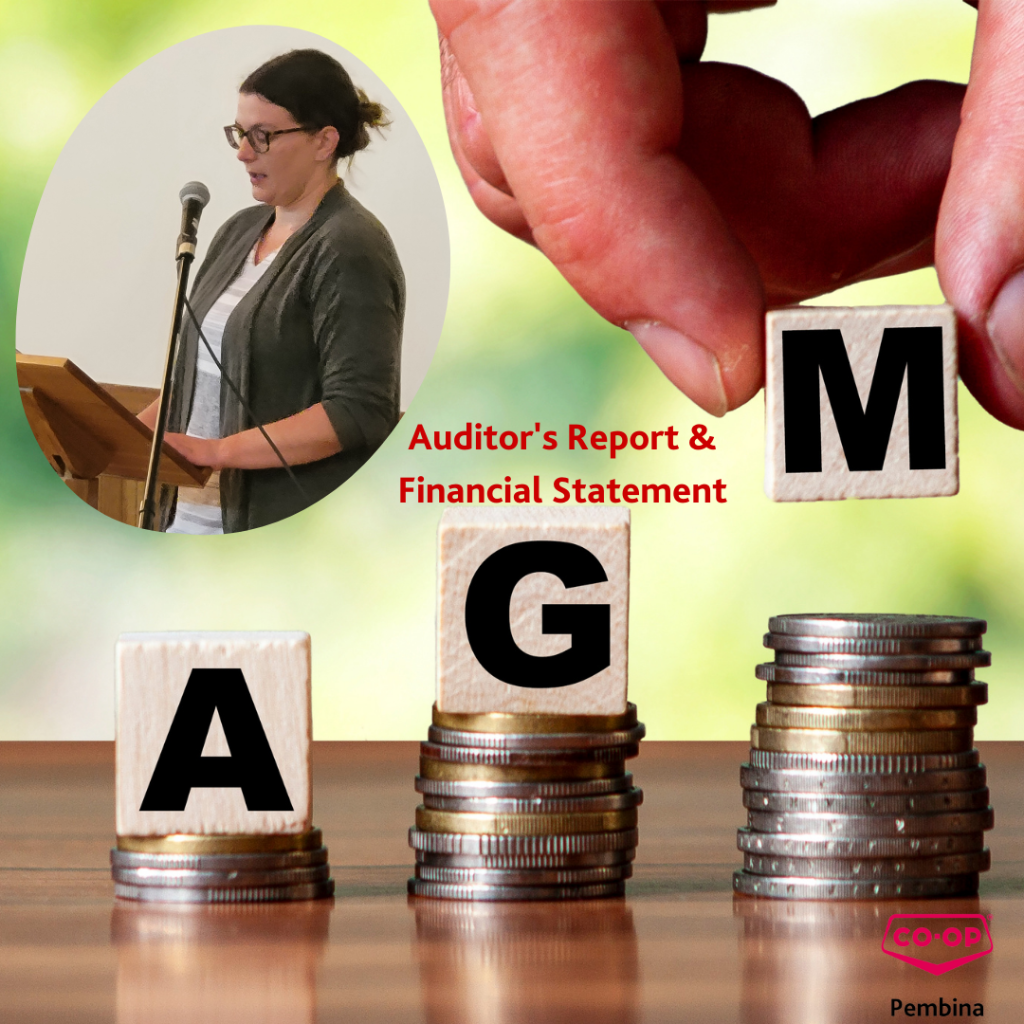 Discover more: