DIRECTORS' REPORT - 2020 ANNUAL GENERAL MEETING
Actions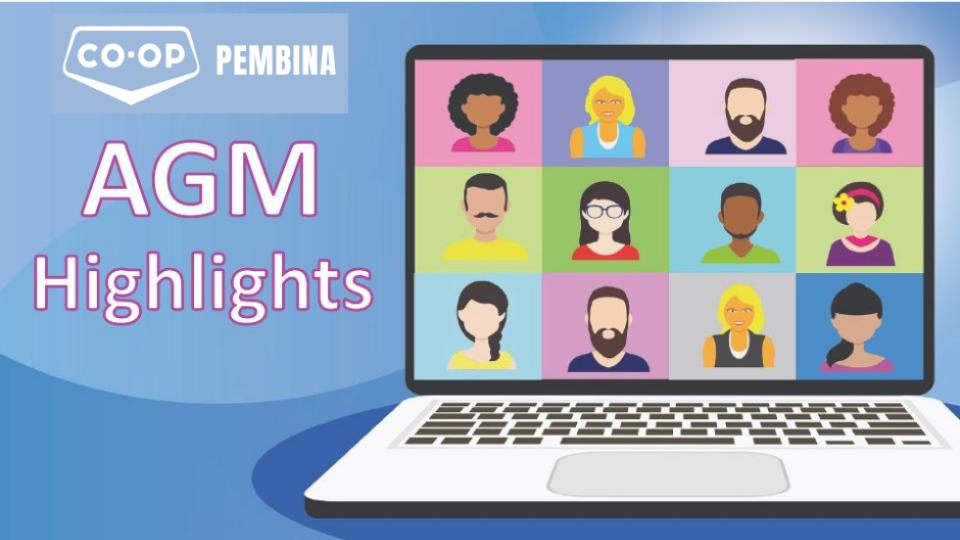 DIRECTORS' REPORT - 2020 ANNUAL GENERAL MEETING
September 1, 2021
Your Board of Directors is pleased to report on the operations for Pembina Co-op. This year our AGM was held virtually on July 28, 2021!
---
On behalf of the Board of Directors, I would like to thank everyone for attending our Annual General Meeting this evening. We look forward to updating you on our operating results for the 2020 fiscal year, sharing our plans for the future, as well as addressing any questions or concerns that you may have.

Pembina Co-op operates using the Corporate Performance Management System (CPM) that was developed by FCL for retails in the Co-operative Retailing System. Under this model, the Board of Directors is responsible for establishing the long-term direction and goals for the organization. It is then Management's responsibility, through the business planning process, to develop and implement the necessary strategies to achieve that vision and those goals. CPM is a management system which ensures that we remain focused on planning for the long-term success of our Co-op.
Board of Directors
During the 2020 fiscal year, the Board of Directors met 9 times. At these meetings a wide array of topics are discussed. In addition to reviewing the progress on the goals established under CPM, the Board attends to member equity issues such as new member applications and requests for withdrawals, long-term strategic planning, as well as to provide guidance and leadership to Management. In addition to these regular meetings, representatives from the Board attended several other meetings including the annual tour of Pembina Co-op facilities, the Leadership Conference, and the FCL AGM.
Financial Results
2020 was a very challenging year for Pembina Co-op, as it was for all businesses and all of us as individuals. Early in the year we experienced a labor disruption at the Co-op Refinery Complex causing intermittent supply issues, we saw the destruction of demand and significant drop in the price of fuel, supply issues in building materials, food and other consumer products, not to mention the fact that COVID-19 turned our world upside down. Despite all of this, in fiscal 2020, Pembina Co-op had a record year in sales and 2nd best year on record in terms of earnings. Total sales for 2020 were $158.78 million. This is up $10.1 million over the previous year. Our net before-tax earnings were $8.4 million which is $1.0 million higher than 2019.
Our balance sheet continues to remain strong. Member's equity, reserves, and retained savings total $72.8 million compared to $68.6 million last year. Total assets were $112.7 million. This included our cash position going up by $5.3 million from the same time last year.
From the savings earned in 2020, the Board of Directors has approved a patronage allocation to our members in the amount of $4.2 million. This patronage allocation will be credited to members based on the following rates:
General Merchandise 1.10%
Food 1.20%
Crop Inputs 1.75%
Liquid Fertilizer 1.00%
NH3 Fertilizer 3.00%
Dry Fertilizer 3.00%
Clear Petroleum 5.00%
Dyed Petroleum 7.00%
The remainder of these earnings will be allocated to the Co-op's reserves and to pay corporate income taxes.
During the 2020 fiscal year, the Board approved cash repayments to members totalling $3.6 million. This included $498,000 submitted to Canada Revenue Agency for withholding tax, $858,000 to members who qualified for repayment under the bylaws, and a general repayment of $2.2 million.
Assets and Improvements
For 2020, the Co-op spent $1.3 million on new capital assets and disposed of $319,000 of older assets. These asset purchases include various rolling stock, miscellaneous operating equipment, and a new CPIC chemical warehouse in Notre Dame. We also put the finishing touches on a new fertilizer shed in Notre Dame for which construction began in 2019.
For 2021, there are several capital projects planned with a total cost of $5.2 million. Some of these projects include cardlock upgrades at Baldur, Manitou, and Notre Dame, a new point-of-sale system at all of our Home Centres and Hardware locations, fertilizer equipment replacement at St. Leon, significant expansion of NH3 storage at Mariapolis, as well as many other smaller upgrades and additions at many of our other sites.
Community Builder
Pembina Co-op continues its support of the many community organizations throughout its trading area. Total donations during the 2020 fiscal year were in excess of $50,000. Our community support policy included the recognition of employee volunteer hours. Every employee, and Director, received one ballot for each hour that they volunteered for a community organization or charity. For 2020, employees volunteered 866 hours to various community organizations. From those 866 ballots, 5 names were drawn where the winners would be able to direct a donation of $1,000 to the community group of their choice. This past year's winners were:
Ryan Robidoux – Notre Dame Arena
Lisa Collet – Notre Dame Playground Project
Shaun Grice – Rock Lake Boys Minor Baseball & Pilot Mound Kinsmen Club
Rodney Buydens – Pilot Mound Golf Course
Nick Grift – Pembina Valley Humane Society
A large part of the success of our Co-op depends on the competence, enthusiasm, and dedication of our employees. I am proud to say that we have a great group of people on the Pembina Co-op team. The Board would like to acknowledge all of the hard work and effort that all of our people have given during these difficult times over the last 18 months. We would not have been able to deliver the essential goods and services that we all need to keep our businesses and households running without them.
Lastly but not least, we want to say thank you to you, our members, for your continued support. By supporting a business that you own, you benefit by sharing in the profits of the company, and our communities benefit by maintaining a valuable service.
Your Board of Directors
Marc Grenier (President)

Kevin Cutting

Ken Harpelle (Vice President)

Bertrand De Rocquigny (Secretary)
Barry Gosnell

Ernest Fraser

Daniel Van De Velde

Daryl Devos

Discover more: